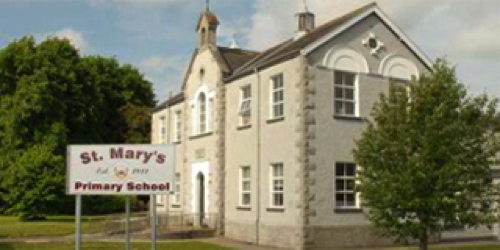 School History
..In 1904 the Sisters of St. John of God were invited by Fr. Kinsella P.P. to take charge of the education of girls and infant boys in the parish of Edenderry. This decisxion was sanctioned by the bishop and the Board of Education. Five sisters, headed by Mother Aloysius, arrived from Wexford to teach in the building now known as St. Joseph's Hall.
In time, St. Joseph's Hall was found to be inadequate to cope with the increasing pupil numbers. In 1911, under the direction of Fr. Kearney, a new school capable of accommodating a large number of pupils was built. Fr. Kearney died before the building was complete and was succeeded by Fr. Paul Murphy who took a keen interest in the school.
Soon, the numbers increased so rapidly that further extensions were required. Four extra classrooms were erected in 1929. Three more rooms were added on in 1954.
In 1965, six new classrooms, a kitchen and the assembly hall were built. The cost of the hall was borne by the St. John of God Sisters.
Our school continued to grow and, in 2004, two new classrooms were added.
The people of Edenderry owe a debt of gratitude to the Sisters for their generosity and dedication to this school. Today, it is a landmark in the history of Edenderry.
Contact Us
School Address
St.Mary's Road,
Edederry,
Co. Offaly.
Contact Numbers
Telephone No. 046 9731424
Fax. No. 046 9732935
Mobile 086 7714240
E-mail
info@stmaryspsedenderry.ie